Half & Half Trip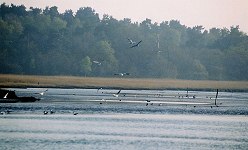 Usually a one off trip for larger groups this trip combines a 30 minute peaceful river cruise along the banks of the river Blyth followed by a full 30 minute high speed blast around the sole bay to finish off!!
Priced on a per person basis with up to 12 passengers (larger parties can be catered for by also using our other boat)
Price: Adults £31, Children £16, Family £78.
Contact us on 07887 525082 for further details.