Booking Information
How to Book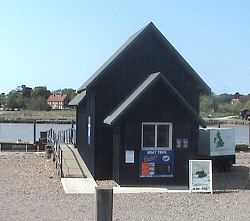 Either visit the Coastal Voyager Office at the Harbour or ring us on 07887 525 082.
Alternatively you can email us at This email address is being protected from spambots. You need JavaScript enabled to view it. with your requirements and we will get back to you.
No booking is confirmed until full payment is received.
Arrival at Coastal Voyager should be 15 minues prior to the pubished departure time to allow for briefing prior to departure.
Timetable
Download the latest Timetable here.
Prices
Sea Trips

Sea Blast (30 Minutes)
£24 - Adult
£12 - Child
£60 - Family



3 Hour Coastal Cruise (Private Charter)

£445

Seal And Wind Farm Cruise (3 Hours)

Drive of your Life 1/2 hour (Private charter of boat for up to 12 people)

Drive of your Life 1 hour (Private charter of boat for up to 12 people)

£35 - Adult
£18 - Child
£88 - Family


£240

£350

River Cruises

3 1/2 hour cruise with 1 hour stop at Blythburgh White Hart pub
£28 - Adult Return
£14 - Child Return
£70 - Family Return
Walker One-Way River
£18 - Adult One Way
£9 - Child One Way
£45 - Family One Way
Cancellation Policy
A full refund or rescheduling of your trip will take place if Sail Southwold cancels your trip.
If the customer cancels we are not able to offer a refund unless 48 hours notice is given.
If your trip is rescheduled we will rebook your trip as soon as there is space in the existing bookings schedule.
If you are in any doubt about your health prior to taking a trip on Coastal Voyager, please consult your doctor as Sail Southwold staff are not qualified to assess your health prior to departure.
Rude or inappropriate behaviour will not be tolerated at any time, you will be asked to leave the tour with no refunds offered.
Safety proceedures must be fully adhered to at all times, failure to do so will result in your tour ending.
Coastal Voyager reserves the right to cancel a voyage at any given time due to unsuitable weather conditions.