River Blyth Cruise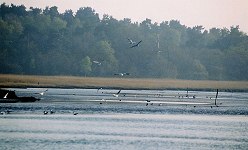 The peace and tranquillity on the river Blyth is a complete contrast to the hustle and bustle of every day life. You could quite literally be going back in time when you venture up the Blyth Estuary which is steeped in history.
The area is protected by Natural England and has many important birds & insects.
We regularly see Marsh Harriers, Heron, Cormorants, a wide variety of gulls including Med Gulls & Little Gulls. We have also seen Osprey and many types of wading birds both resident and migratory. If you're really lucky our resident seal 'Dorothy' may be sunbathing on her island but due to her busy schedule we can't promise that!
The trip includes a stop at the Blythburgh White Hart pub, enough time for a meal on our lunch or evening cruise, the moonlit evening cruises are quite breathtaking! (Meal not included in cruise price)
Prices (One Way): Adults £24, Youths £15 (14-17 years old), Children £11 (13 years old and under)
Prices (Return): Adults £34, Youths £21 (14-17 years old), Children £16 (13 years old and under)
Duration: Three hours and 30 minutes - One hour gentle cruise each way with an hour at Blythburgh White Hart. There is also an optional short trip to see Southwold from the sea.