Sea Blast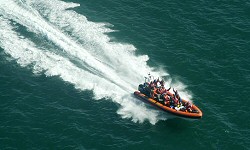 Our most popular trip by far is the high speed trip out to sea from Southwold. The 400hp boat is put through its formidable paces in a 30 min tour of Solebay.
You can either come as an individual on one of our scheduled trips or charter the whole boat for your own party.
We often see harbour porpoises, all kinds of sea birds, the occasional seal and if we are really lucky a dolphin!
Prices: Adults £29, Youths £21 (14-17 years old), Children £17 (13 years or under)
Duration: 30 minutes
River Blyth Cruise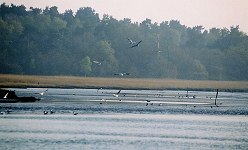 The peace and tranquillity on the river Blyth is a complete contrast to the hustle and bustle of every day life. You could quite literally be going back in time when you venture up the Blyth Estuary which is steeped in history.
The area is protected by Natural England and has many important birds & insects.
We regularly see Marsh Harriers, Heron, Cormorants, a wide variety of gulls including Med Gulls & Little Gulls. We have also seen Osprey and many types of wading birds both resident and migratory. If you're really lucky our resident seal 'Dorothy' may be sunbathing on her island but due to her busy schedule we can't promise that!
Prices : Adults £24, Youths £18 (14-17 years old), Children £15 (13 years old and under)

Duration: Two hours - One hour gentle cruise each way.
There is also an optional short trip to see Southwold from the sea weather permitting.
The Drive Of Your Life!
Take the wheel and become Skipper of Coastal Voyager for the drive of your life!
You will experience first hand what being behind the wheel of a 9 metre 400hp RIB is really like. Under the instruction of an RYA qualified instructor you will put Coastal Voyager through her paces, doing exhilarating turns at hair raising speeds!. (Sea conditions permitting)

Very popular trip for Stag & Hen parties or just celebrating that special birthday!
Price: £290 for 1/2 hour experience. £390 for 1 hour experience.
Contact us on 07887 525082 for further details.
School Trips & Team Building Days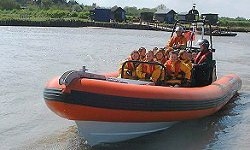 We cater for a wide range of school and educational groups on both river and sea trips.
We also offer team & confidence building days to groups, clubs & corporate customers which are great fun as well as educational and exciting.
Call us with your requirements and we will tailor a day to suit your needs.
Contact us on 07887 525082
Seal And Wind Farm Trip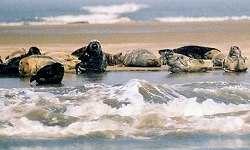 We have grey and common seals living at Scroby Sands. Regular trips take vistors out to watch them relaxing on the sand bank and on most occasions the more inquisitive ones swim over to see what we are up to!
Then visit the Scroby sands wind farm and experience what it is like to get close to the vast wind turbines before we head into Lowestoft harbour for a comfort break and a delicious cup of legendary Coastal Voyager hot chocolate before heading off back to Southwold Harbour.
Prices: Adults £44, Youths £29 (14-17 years old), Children £24 (13 years or under)
Duration: Three hours (moderate speed in transit - low speed whilst at the sands).
Half & Half Trip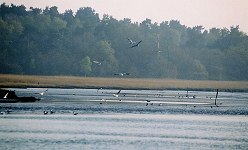 Usually a one off trip for larger groups this trip combines a 30 minute peaceful river cruise along the banks of the river Blyth followed by a full 30 minute high speed blast around the sole bay to finish off!!
Priced on a per person basis with up to 12 passengers (larger parties can be catered for by also using our other boat)
Price: Adults £35, Youths £24 (14-17 years old), Children £19 (13 years old and younger)
Contact us on 07887 525082 for further details.
3 Hour Coastal Cruise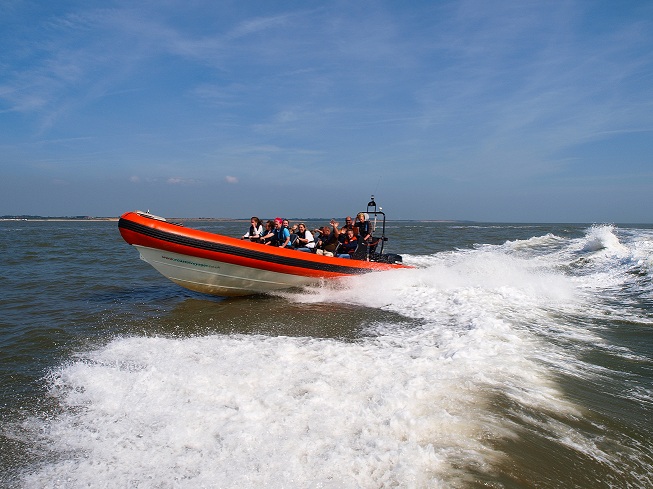 New for 2012 this 3 hour private charter is a mash-up of our 3 most popular trips!!
We leave Southwold Harbour and head North along the beautiful scenic coastline from Southwold to Lowestoft.
On the way passengers will get the opportunity to drive Coastal Voyager under the expert tuition of our RYA powerboat instructor skippers. At Lowestoft we moor up at the Royal Norfolk & Suffolk Yacht club for a 1 hour break, enough time for you to have a meal or a drink or two. On leaving Lowestoft we head back South where there will again be an opportunity for those who have stuck to soft drinks to have a drive of the boat before the skipper takes the helm to allow you to experience what the boat can really do! This private charter is very popular with Hen and Stag parties of up to 12 passengers (possibility of using 2 boats for larger groups at an extra cost).
Price: £490 (3 hour whole boat charter for up to 12 passengers)